OpenSpace Agility (OSA) Zertifizierungskurs
Description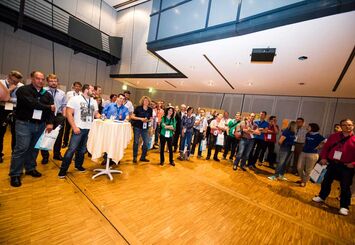 OpenSpace Agility (OSA) is a repeatable technique for getting a rapid and lasting Agile adoption. It works with what you are currently doing, and can be added at any time.
For executive leaders, OSA is a template that operationalizes the core values of Lean, namely: respect for people, and continuous improvement.
For executives who are truly committed to these values, OSA represents a simple, effective and very efficient way forward.
With OpenSpace Agility, you can expect:
A dramatic reduction in the coaching & training costs of implementing your Agile program
A genuine, rapid and lasting Agile transformation
A dramatic increase in employee engagement scores
A dramatic increase in stakeholder satisfaction and potentially, genuine stakeholder delight
Predictable, reliable, repeatable, EVIDENCE-BASED improvement in overall results
OpenSpaceAgility incorporates the power of invitation, Open Space, game
mechanics, leadership storytelling and more…so your Agile adoption can actually take root. OSA is based on people, THEN practices. You can use any practice or framework with OSA: Scrum, Kanban, DaD, SAFe, LeSS, and more.
This is a course on creating rapid and lasting change, across multiple teams, using the OpenSpace Agility technique as described in THE OPENSPACE AGILITY HANDBOOK which each student receives. The class includes ten experiential exercises, books from the instructor, and 30 days of support by email after the class.


Duration: 1 Day
Content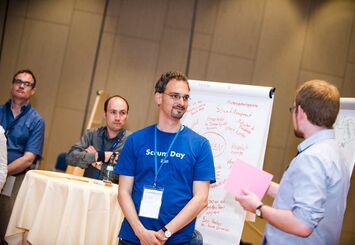 Course Objective
Learn the concepts and facilities of the OpenSpace Agility method, such that the student can assess the approach and begin using it to achieve rapid & lasting change in their organization.
The Agenda:
The 3-part agenda is as follows:
Part 1: OPEN SPACE CONCEPTS AND FACILITIES
Part 2: PRIME/OS (Prime-OS.com)
Part 3: OSA CONCEPTS & FACILITIES
What You Will Learn:
The successful Agile adoptions are powered by human engagement. Improvements in morale, productivity, quality & predictability follow. This course teaches how to achieve very high levels of engagement in your Agile adoption, leading to strong improvement in everything you are measuring.

During this course:
Participants gain an understanding of the cultural dynamics of adopting Agile
Students learn the OpenSpace Agility technique, a proven method for
obtaining a rapid & lasting Agile adoption
Students learn how to rapidly implement Agile in service to creating a highperformance
organization
Executives, sponsors, coaches and team members learn how to create a
rapid and lasting Agile adoption
Participants learn how to apply the OpenSpace Agility method to stabilize
ongoing & troubled Agile adoptions
Students learn how to customize and tailor the flexible OpenSpace Agility
method to fit their organizational context and circumstances
Takeaways for Each Student:
Every student receives:
The OpenSpace Agility Handbook
30 days of support for your OpenSpace Agility questions after the class
The course provides everything you need to GET GOING NOW with OpenSpace Agility. Each of the takeaways are discussed below:
The OpenSpace Agility Handbook
The handbook provides ABC, step-by-step guidance on how to execute an Agile Adoption using the OpenSpace Agility method. This book is written by Daniel Mezick and includes a tutorial, reference guide, Frequently Asked Questions (the
"FAQ"), forms and checklist, and some of the earliest OpenSpace Agility case studies. The book is a user's manual on preparation, planning and execution of the OpenSpace Agility technique.
Thirty Days of Support from The Instructor
Every student receives the certificate of completion, 30 days of support after the class by email and phone. Those considering using OpenSpace Agility to implement an Agile adoption after the class can use this feature to ask questions,
get answers, and receive specific guidance after the class.
Attendees
Facilitators, consultants and coaches who assist with process and culture change in organizations will get the most from this workshop.
You do not need to be implementing "Agile software development" to get the most
from this class.
On the contrary: The OpenSpace Agility template, with before/after Open Space events, is applicable in ANY organization considering ANY kind of process or culture-change initiative.
The following kinds of students gain the most from attendance:
Executives and business leaders
Managers of departments and teams
Coaches, consultants and facilitators
Organizational Development Professionals
Who Should Attend:
Progressive leaders of organizations that want to rapid and lasting success
with Agile adoption; Executives beginning to implement Agile across multiple teams;
Executives with current Agile adoptions that are having problems;
Managers, Coaches, and Team members who are participating in new or
existing Agile adoption in their organizations;
Anyone leader who wants to avoid the pitfalls of implementing Agile in their
organization
Instructor
Daniel Mezick
Daniel Mezick is an author, executive and Agile coach, and keynote speaker. He is the formulator of OpenSpace Agility.
He is the author of THE CULTURE GAME, a book describing sixteen patterns of group behavior that help make any team smarter. The book is based on five years of experience coaching 119 Agile teams across 25 different organizations.
Daniel's client list includes CapitalOne, INTUIT, THE HARTFORD, CIGNA, SIEMENS Healthcare, Harvard University, and many smaller enterprises.
Learn more and contact Daniel at www.DanielMezick.com.