Certified Agile Leadership mit Bob Galen
Description
Class Overview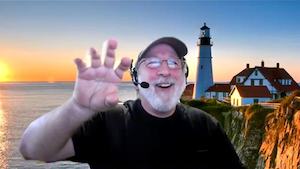 THE ART AND SCIENCE OF TRANSITIONING YOURSELF INTO AN OUTSTANDING AGILE LEADER…
The Scrum Alliance created the Certified Agile Leadership CAL series of 1-day workshops in response to the need to raise the leadership level in agile contexts. They found that changing the world of work via an agile mindset, strategies, and tactics can not be achieved by only focusing on the team. The more important factor is shifting the mindset of the leaders, and the CAL is focused squarely on that goal.
There are three one-day in-person classes in the CAL series:
CAL - Essentials, is the foundational class.
CAL - Teams, is focused more on team leads and line managers.
CAL - Organization, is focused more on senior leadership in at-scale or enterprise-level contexts.
If delivered in a virtual format, the class will be delivered in 3.5-hour "chunks" over four days, either in morning or afternoon sessions. We've found that splitting it up this way allows for a more immersive and less exhausting experience. In person, it will be a jam-packed 2-days.
At the end of this class, attendees will receive the CAL-E and CAL-O certifications.
What makes our classes different?
Many Scrum Alliance CSTs and CECs have far too limited real-world leadership experience. While they've studied leadership academically and try to empathize with the challenges, in a word, they really can't. They lack the seasoning and experience to truly understand agile leadership development.
What sets Bob Galen and our CAL classes apart is the depth and breadth of our real-world experience:
Bob has been leading software teams for over 25 years and agile teams for nearly that long.
Bob has held roles in software development, software testing, architecture, operations, and project management.
Bob has had senior-level leadership roles at the Director, VP, and C-level in various organizations.
Bob has worked in small, start-up companies to large, enterprise-level companies. So, he viscerally understands the challenges of scale.
Bob has worked with distributed teams for over 15 years - both nearshore and offshore models from various cultures.
Bob has been coaching both at the team, management, and leadership level for over 15 years.
Bob has an incredible understanding of, respect for, and empathy for the craft of leadership—agile included.
And all of this experience is woven into the materials of our CAL-E, CAL-T, and CAL-O class stories, examples, breakouts, and the focus.
CAL—E, Learning Objectives
CAL-E is the baseline class for discovering your alignment toward agile leadership. It's an inside-out journey that will springboard you on a personal discovery and change journey.
These are the high-level learning objectives the Scrum Alliance has established for the CAL-E.
Understanding Why New Thinking and Approaches Are Required for An Increasingly Complex, Unpredictable, and Volatile World.
Exploring a Different Type of Leadership.
Growing your Self, Situational and Social Awareness.
Establishing a Growth Mindset.
Increasing your Respectful Engagement.
Our critical focus points:
We'll explore two personal tools: Leadership Agility and CliftonStrengths.
Developing a detailed Agile Leadership Journey personal MindMap.
Exploring the dynamics of an Inside/out agile mindset.
Refine and practice the power of your storytelling.
Huge focus on providing effective feedback leveraging Crucial Conversations & Radical Candor; and practice in Dojos.
CAL—O, Learning Objectives
CAL-O is the baseline class for discovering how to lead your organizational shift to Organizational and Business Agility effectively. This class focuses on culture, organizational design, and leading thru change with broad strategies and specific tactics.
These are the high-level learning objectives the Scrum Alliance has established for the CAL-O.
The Importance of Leadership and Culture in Enabling Agility
Organizational Design, Constraints, and Enablers
Organizational Change
Our critical focus points:
The leader's role in culture-shaping is a KEY component of the discussions.
Leadership Circle Profile or Collective Leadership Assessment is THE assessment tool for this module!
Explore a deeper dive assessment of scaling patterns without solely focusing on a specific framework.
Organization-centric Metrics
iContact case study will wrap up quite a few ideas.
Schedule
This virtual class is 4-days in length. 2-days for delivering CAL-E and 2-days for CAL-O. We'll meet Monday through Thursday from 1pm - 4:30pm EST. We'll take a break every hour to keep things fresh.
Please note: there will be ~3-hours of prework before the class and a bit of homework after each daily session. You'll be sent connection information and prework upon registration.
Materials
You will receive access to a Dropbox with ALL the materials we will be using/referencing in the class
Cancellation Policy
Registrations are non-refundable, but substitutions will be easily allowed with advance notice.
Content
Content
What is the agile mindset, how to adopt it, and how to inspire it?
A walk thru Bill Joiner's - Leadership Agility.
A quick overview of Scrum, XP, and Kanban thru the lens of the leader.
The importance of trust in any agile transformation: downward, upward, and outward
trust.
The evolution of agility from a management and technology perspective – why agile?
We'll spend ~20% of the workshop focused towards developing your coaching skills;
practicing coaching conversations throughout.
We'll also spend a considerable amount of time on communicating the vision, mission,
WHY, behind agility. Exploring how
How to become a better storyteller as a leader and the impact that narrative can have in
agile contexts.
How to create agile supportive organizational structures.
The dynamics of agile at-scale exploring: models, frameworks, networks, and simplicity.
What does high-performance agility "look like"?
Effective agile metrics – what, how, and from where.
How to approach "governance" within agile contexts.
Approaches for strategically guiding organizational change; including agile
transformation.
Effectively structuring and leading distributed teams.
Link to the more detailed CAL learning objectives on the Scrum Alliance website
There are about 1-2 hours of class prerequisites that will be emailed to you 2-3 weeks before
the start of the class. There will also be the opportunity for two post-class follow-up sessions.
One will be a Q&A session related to any class items that we weren't able to cover to your
understanding. The other will be a 1:1 coaching session related to your ongoing agile leadership
journey. Both are "optional" and not directly related to certification.
Attendees
Attendees
The CAL is focused towards leaders and managers. Line managers and up will gain value from the class. As would senior ScrumMasters and agile coaches. In addition, senior product managers or product owners would also gain value. The sweet spot for the class is a company's entire cross-functional leadership team engaged in an agile transformation. The broader the
representation, the better.
Attendee Profile
The CAL series is designed to transform your leadership—
Style
Tactics
Approaches
Behaviors
Models
In the same way that your organization must shift and change during a successful agile/digital transformation.
Does attending the class automatically do that for you? Of course not. But you'll leave with the KEYs to begin, navigate, and advance that journey on your own.
The CAL-T class is focused on team-level and focused leadership and management. Line managers and up will gain value from the class. As would senior Scrum Masters and agile coaches. In addition, senior product managers or product owners would also gain value.
The CAL-O class is focused on the organizational side of leadership and management. The sweet spot for the class is a company's entire cross-functional leadership team engaged in an agile transformation. Often, the broader the organizational representation, the better. Senior leaders (C-level, VP, Director, and Sr, Managers) will strongly benefit from this path as well.
Instructor
Instructor
Bob Galen
Bob Galen is an author, podcaster, teacher, conference speaker, and a top Enterprise-level agile coach. He's been coaching organizations since 2000 on how to effectively "be Agile" and deliver on all of its promises. He is the author of three agile-related books, Agile Reflections, Scrum Product Ownership, and the 3-Pillars of Agile Quality & Testing. Bob is widely known as a "coach of coaches" because he is a go-to coach for other agile coaches when they've hit a particularly challenging context or situation. Learn more about and contact Bob at www.rgalen.com
Dates